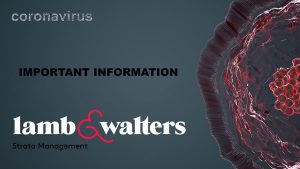 WITH THE GROWING CONCERN AND RAPIDLY EVOLVING IMPACT THAT THE CORONAVIRUS (COVID-19) IS HAVING IN NSW AND AROUND THE WORLD OUR KEY FOCUS IS ON THE IMPACT TO OUR EMPLOYEES AND CUSTOMERS AND TO ENSURE THERE IS AS LITTLE DISRUPTION TO OUR SERVICES AS POSSIBLE.
STRATA MEETINGS
ALL MEETINGS ARE BEING ASSESSED ON A CASE BY CASE BASIS BY YOUR STRATA MANAGER IN LIAISON WITH THE STRATA COMMITTEE BUT AT THIS POINT IT IS OUR RECOMMENDATION ALL NON-ESSENTIAL MEETINGS SHOULD BE DEFERRED OR ARRANGEMENT OF ALTERNATIVE ATTENDANCE METHODS I.E. ELECTRONIC VOTING, TELECONFERENCE ETC SHOULD BE CONSIDERED.
VISITORS TO OUR OFFICES
FROM TUESDAY 17TH MARCH WE WILL NO LONGER BE ABLE TO RECEIVE VISITORS TO OUR OFFICES UNLESS IT IS PRE-ARRANGED DIRECTLY WITH OUR OFFICE. PLEASE CONTACT US ON 9449 8855 SHOULD YOU NEED TO MAKE AN APPOINTMENT.
INCREASED HYGIENE MEASURES
WE ARE FOLLOWING ALL PUBLIC HEALTH GUIDANCE AND HAVE INCREASED THE AVAILABLITY OF HAND SANITISER IN OUR OFFICES FOR EMPLOYEES AND VISITORS TO USE. WE WILL CONTINUE TO MONITOR THE LATEST ON COVID-19.
PRACTICAL THINGS SOME OWNERS CORPORATIONS ARE ALREADY DOING
PLACING FACTSHEETS (SEE BELOW FOR LINK) ON NOTICE BOARDS AS A CONTINUAL REMINDER TO RESIDENTS.
IF YOU WOULD LIKE THIS FACTSHEET PRINTED AND DELIVERED TO YOU PLEASE EMAIL: carlos@lambandwalters.com.au
ENSURING CLEANERS ARE USING APPROPRIATE SANITIZING CLEANING PRODUCTS. THAT EXTRA ATTENTION AND MORE FREQUENCY OF CLEANING IS GIVEN TO "TOUCH POINTS" SUCH AS LIFT CALL BUTTONS, INTERCOM STATIONS, HANDLES AND SO ON. IF YOU WOULD LIKE TO INCREASE CLEANING FREQUENCY PLEASE CONTACT carlos@lambandwalters.com.au
STAY UP TO DATE:
"https://www.health.nsw.gov.au/Infectious/alerts/Pages/coronavirus-faqs.aspx"
THE NATIONAL CORONAVIRUS HEALTH INFORMATION LINE 1800 020 800.
STRATA COMMUNITY AUSTRALIA (NSW) HAVE PUT TOGETHER A NUMBER OF USEFUL LINKS FOR ITS MEMBERS WHICH YOU CAN FIND AT:
https://nsw.strata.community/coronavirus-disease-2019-covid-19-information-for-sca-nsw-members/
WE WILL BE MONITORING THE SITUATION DAILY AND WISH YOU GOOD HEALTH IN THE COMING MONTHS.
Notices